- The Government of Botswana made it clear on Friday that sports hunters would not be welcome in its country as it lamented the killing of Zimbabwe's Cecil the lion by American dentist Walter James Palmer.
Government spokesperson Jeff Ramsay said sports hunting had been banned in Botswana and last year the government had also moved to ensure that Botswana's lions and other large carnivores were not exported to South Africa or any other country for so-called "canned hunting".
Ramsay said his government had learnt with deep concern about the killing of the collared and protected lion which it understood had been lured from Zimbabwe's Hwange National Park.
"We commend the concerned authorities for acting swiftly and arresting the culprits," Ramsay said in a statement. "We remain hopeful that they will all be prosecuted for carrying out this unjustified act.
31 July 2015
 - It's interesting how we get entangled in compromising situations and interactions, often unwittingly. We all face this challenge continually. So often the very encounter itself is predestined to failure without our even knowing it and results in a sense of energy sapping futility.
If you find yourself in such a tug of war, it's time to rethink your entire stance. In fact, it might be time to drop the connection all together. Winning ain't what it's cracked up to be, nor to your benefit in most cases in these circumstances.
This happens because we get snared into lower level thinking on a preset playing field designed to do just that. Ensnare and entrap. This societal mechanism is designed to set the parameters and disguise the real solution which is way outside this constructed paradigm. When we join into the "contest" we subject ourselves to the win-lose dialectic, the pitting of one versus another paradigm that has beset humanity for eons.
31 July 2015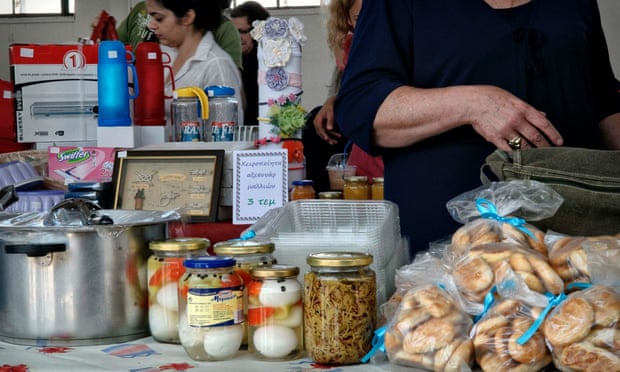 - As money has become tighter in Greece, an alternative "solidarity economy" has sprung up providing everything from food and medical care to hairdressing and language classes to thousands – without a euro changing hands.
The Athens Time Bank, for example, allows members to collect credits by offering an hour of their time to someone who needs their services. The bank boasts doctors, dentists, electricians, yoga teachers and plumbers among its ranks, but the most popular service on offer is psychotherapy – highlighting how years of austerity have eaten away at more than just savings and living standards.
"These are the seeds, we are still in the beginning," said member Christine Papadopoulou, who is also one of the coordinators of an annual "festival of solidarity" that brings together thousands of people for discussions, concerts and workshops each autumn.        
The network is made up of a diverse patchwork of groups.