14 September 2016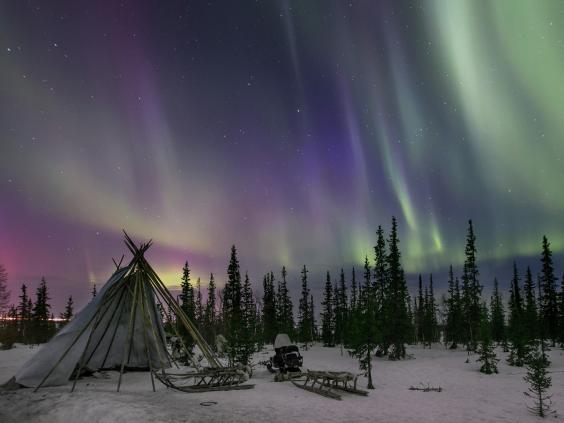 - The Earth plays a much bigger role in creating the amazing light show than most people realise.

The Northern Lights are one of the most spectacular natural events on the planet. The usual explanation given by tour guides and in books is that charged particles carried by solar winds from the sun hit the Earth's magnetic field.

But if this was the whole story, the aurora borealis, named after the ancient Greek goddess of the dawn, Aurora, and Boreas, the Greek name for the north wind, would hardly be visible as it would take place during the day, physicist Dr Melanie Windridge pointed out.

And the particles themselves do not actually have enough energy to create some of the staggering light shows seen closer to the poles.
15 May 2016
 - With more than two years of measurements by ESA's Swarm satellite trio, changes in the strength of Earth's magnetic field are being mapped in detail. Launched at the end of 2013, Swarm is measuring and untangling the different magnetic signals from Earth's core, mantle, crust, oceans, ionosphere and magnetosphere - an undertaking that will take several years to complete.
Although invisible, the magnetic field and electric currents in and around Earth generate complex forces that have immeasurable effects on our everyday lives. The field can be thought of as a huge bubble, protecting us from cosmic radiation and electrically charged atomic particles that bombard Earth in solar winds. However, it is in a permanent state of flux.
16 October 2014
 - A new study by a team of scientists from Italy, France, Columbia University and the University of California, Berkeley, demonstrates that the last magnetic reversal actually happened very quickly, in less than 100 years - roughly a human lifetime.

Earth's magnetic field has flipped many times throughout our planet's history. Our world has a north and south dipole driven by convection in Earth's iron core as it interacts with charged particles from our galaxy 'Milky Way' mostly of cosmic rays and also solar rays from our Sun.

For reasons yet fully known, Earth's magnetic field periodically weakens setting into motion a chain of events which causes destabilizing of Earth's fluids - mostly of magma and also ocean's and ice. These natural cyclical events cause the shifting of weather patterns, climate, elevated earth changing events such as earthquakes, volcanoes, tornadoes, hurricanes etc.