14 September 2017
 - On Monday 11 September 2017, Zeid Ra'ad Al Hussein, one of the UN high-ranked officials, ranted at United Nations Human Rights Council (OHCHR), Geneva, condemning the behaviour of the government of Myanmar as "brutal security operation" against the people of Rohingya which was disproportionate to the operation of Rohingya insurgents took place in August 2017.

Hussein demanded from the government of Myanmar to bring its cruel military operation to a halt against the defenceless people of Rohingya.[i] The military operation in Rohingya hitherto has been condemned, on several occasions, by the UN and Amnesty International. On 5 September 2017, António Guterres, the secretary-General of the UN, demanded from the government of Myanmar to desist from its violence against Rohingya people.
13 September 2017
 - We are accustomed to thinking of progress as a step forward. But taking a conscious step back can lead to an abiding sense of peace.

Imagine that you are standing under a waterfall. The water pounds down on your head and shoulders and pins your feet to the ground. The steady rush of water feels good. At times, it feels ecstatic.

But often the force of the water is too much. It hurts. You want it to stop. You tilt your body slightly, hoping to find a gap in the sheets of water cascading down on you. You do, and for a moment the pain lessens. But then the full force of the water finds you again. The pain is intense. You feel trapped.

Now imagine that one day, for no reason you can think of, you step back from the waterfall. You had no idea there was a space behind you the whole time, a cavern cut into the rock that easily accommodates your frame. The relief you feel is immense. Your body feels light. You witness the water pouring down inches from your nose. The inches seem like miles. Now the water begins to flow from you. Tears of joy are streaming down your cheeks. You have stepped away from the steady rush of water, from the endless cycle of pleasure and pain you'd been experiencing for as long as you can remember.
13 September 2017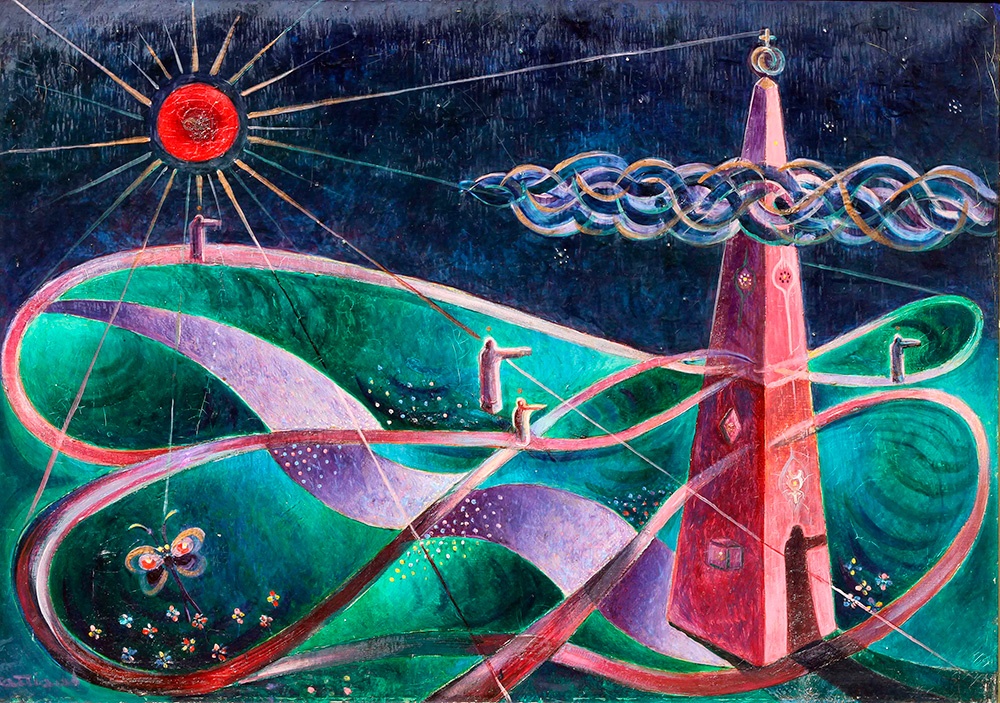 - When we look up into the night sky and see the sparkle of stars, we are awed and enchanted. There is grace, there is wonder, and there is the excitement of the unknown. Everything comes alive with possibility. There is an enchanted world out there, and it beckons to us through a communal mystery. And we wish to respond to that call, for underlying all life is the urge for meaning. As human beings we desire, long for, need a sense of meaning and purpose in our lives. An enchanted universe serves to entice us with a feeling of belonging. Yet somewhere along the way we lost the sense of communion.
Once, humanity felt a common destiny with its environment, both terrestrial and cosmic, and this encouraged a mode of direct participation. Long ago, the environment experienced by humankind was an immersive space, an inclusive matrix that involved the individual in each moment of their lives. Our ancestors did not stand away from life—they participated directly in its enchantment. This merger between being and environment established a psychic wholeness in humans. Our ancestors were not estranged from the world in the way that modern humanity is. In the last few centuries especially, humankind has increasingly expunged itself out of its own mystery and thrown itself out of the realm of enchantment. Modern scientific, rational consciousness is an alienated consciousness, afraid of its participation. It views the world as an outside observer; a world of objects that move in mechanical motion. This alienated consciousness has substituted the enchantment and mystery with a smear of artificiality. The cosmos of human "being and belonging" thus became tainted with the contagion of the human mind. Yet this is not how things are, it is only the latest picture of how things seem to us. We have been forced to construct our own meanings about a world we have let slip from ourselves. In other words, we have disenchanted ourselves from a living cosmos.