15 June 2017
 - The sun has got his hat on, our moods feel lighter and we are gripped by a desire to soak up some solar rays. But no, we keep being told: the threat of skin cancer makes this potentially lethal.
Now, however, scientists are discovering a positive side to sun-worshiping. Getting a good dose of sunshine is statistically going to make us live longer, healthier and happier lives.
Emerging research indicates that sunlight may protect us against a wide range of lethal or disabling conditions, such as obesity, heart attacks, strokes, asthma, and multiple sclerosis. Sunshine has also been shown to boost our libidos and general mood.
This is not simply about vitamin D — which our skin manufactures from sunlight. The vitamin helps us build healthy bones and teeth and may protect against bowel cancer. But new research indicates that solar rays benefit our bodies in multiple other ways.
15 June 2017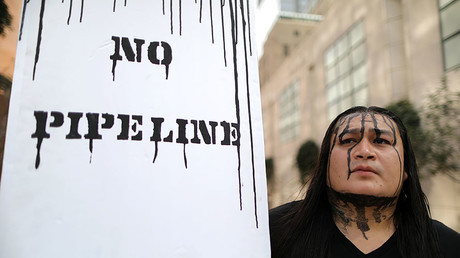 - The Standing Rock Sioux Tribe and allies are hailing a federal judge's decision that the Dakota Access Pipeline's permits shall be remanded until further notice. The court found that the controversial project's permitting process was insufficient.
The tribe and others bringing the lawsuit have long called for the Dakota Access Pipeline to be shut down. US District Court Judge Boasberg of the District of Columbia did not order any interruption in the DAPL's oil transporting operations on Wednesday, but he did issue a 91-page decision that states the US Army Corps of Engineers did not adequately consider various potential impacts of oil spills on fishing rights, hunting rights, or environmental justice, when it issued the permits. 
An independent research firm, Clearview Energy Partners from Washington, DC, which looked into the case, pointed towards "omissions" in the Corps' final analysis of the pipeline and may be taken care of soon, according to Reuters.
15 June 2017
 - Aside from the looming threat of the loss of medical freedom in regards to vaccination, what should truly frighten parents is the fact that there has never been a single safety study conducted on the inter-relationship between multiple vaccines, nor has there ever been a single safety study as far as the combination of ingredients in the vaccines themselves.

The medical industry, pediatricians, and unsuspecting parents are blindly trusting the CDC's assertions of safety. And while we are discussing frightening matters, it should also be noted that neither the CDC nor the FDA can prove the safety of the current vaccine schedule. For further information, check out this link.

Mandatory vaccination laws are already a reality in states like California and Mississippi, and it has never been more dire for parents to understand the shocking ingredients in those vaccine vials. As advocates for our children, it is our job to be fully educated on matters that affect their health.

After all, every parent of a vaccine-injured child was once pro-vaccination.