12 January 2018
 - Orangutans may have knowledge of medicines unknown to humans, a study has found.
The great apes have been filmed chewing plants into a lather - which they then use as an 'ointment' on their aching limbs. The plant is also used by the orangutan's indigenous human neighbours in the forest.
Now scientists are investigating the possibility the apes may know of further medicinal plants that could be used by mankind.
Researchers from the Borneo Nature Foundation have filmed the apes since 2003 – collecting over 20,000 hours of recordings. The apes were spotted using their own herbal medicine in the Sabangau Forest, in Central Kalimantan, Indonesian Borneo.
11 January 2018
 - Sixteen-year-old Ahed Tamimi may not be what Israelis had in mind when, over many years, they criticised Palestinians for not producing a Mahatma Gandhi or Nelson Mandela.

Eventually, colonised peoples bring to the fore a figure best suited to challenge the rotten values at the core of the society oppressing them. Ahed is well qualified for the task.

She was charged last week with assault and incitement after she slapped two heavily armed Israeli soldiers as they refused to leave the courtyard of her family home in the West Bank village of Nabi Saleh, near Ramallah. Her mother, Nariman, is in detention for filming the incident. The video quickly went viral.

Western commentators have largely denied Ahed the kind of effusive support offered to democracy protesters in places such as China and Iran. Nevertheless, this Palestinian schoolgirl – possibly facing a long jail term for defying her oppressors – has quickly become a social media icon.
11 January 2018
 - Are we being steered toward a controlled, cashless economy?
There is a lot of debate around the intentions behind cryptocurrency, and in particular, Bitcoin itself. Some say that it is the answer we have been waiting for; the very thing that will allow us the freedom to finally side-step the centralized control of the State. While others feel that this is just another long-con deception by the very entities and institutions that never cease in their tireless plots to acquire more control and more power over the average individual.
The Internet is a perfect example, for both sides of the argument. Wherein we now know that the Internet itself was a government creation, and as our own history has taught us, no doubt designed for some nefarious and sinister purpose of information control and military superiority, or at least hijacked and developed to do so very early on. This was in fact very clearly left out of the story book version of its creation. The intentions behind that omission are up for anyone to guess at, but with the wildly unconstitutional surveillance state and the formation of the Information-Industrial Complex happening right in front of us, it should not be too hard to come close.
10 January 2018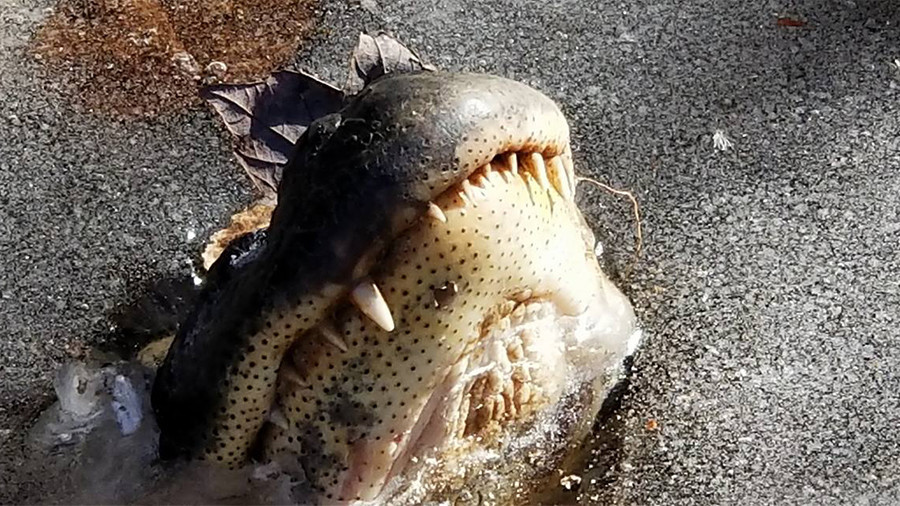 -The 'bomb cyclone' that froze the eastern seaboard of the US last week forced many to take extreme measures to stay warm and stay alive, including a group of rather inventive alligators in North Carolina.
Footage captured by the staff of the Shallotte River Swamp Park in Ocean Isle Beach, North Carolina shows the somewhat surreal survival technique employed by the cold-blooded reptiles which allows them to be frozen in place in the park's pond. Even the 'bomb cyclone,' which wrought havoc across the eastern seaboard of the US, couldn't catch these crafty creatures off guard. 
The gators instinctively know when the water around them is about to freeze and raise their snouts at just the right time, allowing them to enter a state of brumation, a kind of hibernation that also involves slowing down an animal's metabolism.
Videos showing the alligators "just hanging out in the water," have garnered tens of thousands of views since they were published over the weekend.
10 January 2018
 - The negative effects of electromagnetic fields (EMFs) continue to ignite conversations and controversy worldwide. The most dangerous pollution affecting you is the invisible sea of EMFs your body swims in daily. You are exposed to EMFs all day long, not only in public but inside your home, too. Most of the radiation emits from cellphones, cell towers, computers, smart meters and Wi-Fi, to name just a few of the culprits.
While it's nearly impossible to avoid EMF exposure completely, there are practical ways to limit it. Given the number of EMFs that bombard you all day long, getting educated about the negative effects of EMFs is imperative to your well-being. Particularly if you are dealing with a serious illness, it is well worth your time to reduce your EMF exposure as much as possible. If you have been told EMFs are safe and not a danger to humans, you may want to consider:
The telecommunication industry has manipulated federal regulatory agencies, public health authorities and professionals through powerful and sophisticated lobbying efforts leaving consumers confused and unaware of the health risks associated with EMFs.
Any negative health effects from EMFs, similar to smoking, may not be immediately noticeable, but will likely develop gradually over time. Cell phones indeed are the cigarette public health threat of the 21st century.
9 January 2018
 - At the recent Codex meeting in Berlin, there was an attempt to define genetically engineered (GE) food ingredients as 'biofortified' and therefore mislead consumers. This contravened the original Codex mandate for defining biofortification. That definition is based on improving the nutritional quality of food crops through conventional plant breeding (not genetic engineering) with the aim of making the nutrients bioavailable after digestion. The attempt was thwarted thanks to various interventions, not least by the National Health Federation (NHF), a prominent health-freedom international non-governmental organization and the only health-freedom INGO represented at Codex. But the battle is far from over.

The Codex Alimentarius Commission's Codex Committee on Nutrition and Foods for Special Dietary Uses (CCNFSDU) convened in Berlin during early December and drafts provisions on nutritional aspects for all foods. It also develops international guidelines and standards for foods for special dietary uses that will be used to facilitate standardized world trade.

Based upon previous meetings, the initial intention of the Committee was to craft a definition for biofortification that could then be used uniformly around the World. Biofortification originally referred to increasing certain vitamin and mineral content of basic food crops by way of cross-breeding, not genetic engineering, for example by increasing the vitamin or iron content of sweet potatoes so that malnourished populations would receive better nutrition.
9 January 2018
 - One of the myths perpetuated by the pro-GMO (genetically modified organisms) lobby is that critics of GMOs in agriculture are denying choice to farmers and have an ideological agenda. The narrative is that farmers should have access to a range of tools and technologies, including GM crops. 
Before addressing this issue, we should remind ourselves that GMOs have been illegitimately placed on the commercial market due to the bypassing of regulations. 
Steven Druker's book Altered Genes, Twisted Truths (2015) indicates that the commercialisation of GM food in the US was based on a massive fraud. The US Food and Drug Administration (FDA) files revealed that GM foods first achieved commercialisation in 1992 but only because the FDA covered up the extensive warnings of its own scientists about their dangers, lied about the facts and then violated federal food safety law by permitting GM food to be marketed without having been proven safe through standard testing.
8 January 2018
 - 1/8 ~ Sun (core Self) ~sextile~ Jupiter (optimism): This energy is sometimes considered "lucky" but the success you achieve under this influence is more likely due to a positive outlook and clear vision of who you are and what you want...
- 1/8 ~ Venus (relationships) ~sextile~ Jupiter (optimism): This energy expands your relationships, personal or professional, allowing you to gain traction in expressing the Highest vibration of this Union possible...
 - 1/8 ~ Mars (desire & action) ~sextile~ Pluto (purification & transformation): This is lower will meets Higher Will ~ within you! Mars is your inner Masculine and therefore helps you take action & make choices according to who you are and what you want. Pluto will ensure that you come from the purest place within (Soul-level), which often entails a cleansing of the non-essential and over-growth of the last cycle first...

 - 1/9 ~ Venus (relationships & resources) ~conjunct~ Sun (source & essential Self): This activates your innate creativity and gets your wheels turning about what you want to bring to life in the world, what you want to invest in and be a part of...

1/9 ~ Venus (love, finances & relationships) ~conjunct~ Pluto (purification & transformation): This energy supports a new beginning in your personal life. Some aspect of your values & priorities has shifted or run its natural course and this is a time to move in a new direction, if only moving to your own next level...

 - 1/9 ~ Sun (source & essential Self) ~conjunct~ Pluto (purification & transformation): This energy brings to mind a quote, "circumstances don't make a man, they reveal him". The Sun (ego) and Pluto (transformation) are connecting and you are often a different Being once this energy passes and the two planets separate again (they meet once a year)...

 - 1/9 ~ Venus (feminine values & priorities) ~sextile~ Mars (masculine desires & actions): This energy is good for trying new things and meeting new people, if/when possible. It creates a good vibe and balanced masculine/feminine energy that allows a nice exchange between self and other...
1/10 ~ Venus Reclamation - This is a magical, mystical time in the Venus Cycle, when she leaves the sky as Morning Star, dives deep into the Underworld (behind the Sun) to gather information, fortitude & direction for when she returns and rises as the Evening Star (around Feb 16th). We can co-create with her and tune into her rhythm in order to guide our own lives...

 - 1/10 ~ Sun (confidence) ~sextile~ Mars (action): This is an excellent time for action! You may have some good, positive energy brewing that, if it does not find an outlet, could turn negative or destructive. So DO something – get moving – take action!...

 - 1/13 ~ Mercury (thought process) ~conjunct~ Saturn (definition of reality): This energy is excellent for any important project that requires your undivided attention. If you've got a vision and have already outlined how to manifest it, now is the time to really fill in the blanks – flesh it out – bring it to life!...
 - 1/13 ~ Venus (love, finances & relationships) ~square~ Uranus (sudden change): This is a test to grow that you cannot plan for. Venus rules your values & priorities and an activation with Uranus signifies something sudden and seemingly out-of-the-blue...
8 January 2018
8 January 20018
- There is an increasing body of evidence linking alcohol consumption to an increased cancer risk - and now scientists in the UK believe they have found a plausible explanation.
In a new mouse study, the team found that alcohol damages DNA in blood-forming stem cells. The culprit is a chemical compound called acetaldehyde, a byproduct of the alcohol metabolisation process. When acetaldehyde isn't broken down further - for instance, when one has consumed alcohol in amounts that the body struggles to metabolise - it builds up in the cells.
This is when it wreaks its merry havoc on DNA, according to researchers from Cambridge University's MRC Laboratory of Molecular Biology.