13 September 2017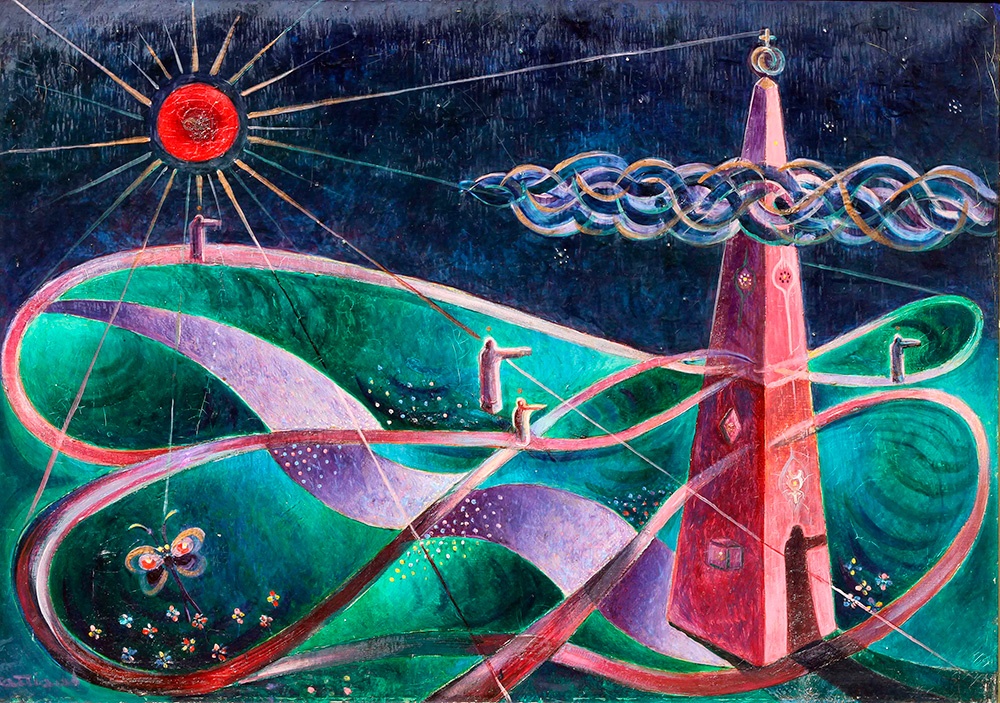 - When we look up into the night sky and see the sparkle of stars, we are awed and enchanted. There is grace, there is wonder, and there is the excitement of the unknown. Everything comes alive with possibility. There is an enchanted world out there, and it beckons to us through a communal mystery. And we wish to respond to that call, for underlying all life is the urge for meaning. As human beings we desire, long for, need a sense of meaning and purpose in our lives. An enchanted universe serves to entice us with a feeling of belonging. Yet somewhere along the way we lost the sense of communion.
Once, humanity felt a common destiny with its environment, both terrestrial and cosmic, and this encouraged a mode of direct participation. Long ago, the environment experienced by humankind was an immersive space, an inclusive matrix that involved the individual in each moment of their lives. Our ancestors did not stand away from life—they participated directly in its enchantment. This merger between being and environment established a psychic wholeness in humans. Our ancestors were not estranged from the world in the way that modern humanity is. In the last few centuries especially, humankind has increasingly expunged itself out of its own mystery and thrown itself out of the realm of enchantment. Modern scientific, rational consciousness is an alienated consciousness, afraid of its participation. It views the world as an outside observer; a world of objects that move in mechanical motion. This alienated consciousness has substituted the enchantment and mystery with a smear of artificiality. The cosmos of human "being and belonging" thus became tainted with the contagion of the human mind. Yet this is not how things are, it is only the latest picture of how things seem to us. We have been forced to construct our own meanings about a world we have let slip from ourselves. In other words, we have disenchanted ourselves from a living cosmos.
12 September 2017
 - Could cosmic events be leading sperm whales to their deaths?
In a new paper, published this August in the International Journal of Astrobiology, physicist Klaus Heinrich Vanselow and his colleagues develop a theory, first advanced more than a decade ago, that whale strandings in the North Sea are caused by solar storms. Million miles away, the Sun spits out clouds of energy and particles so large they can distort Earth's magnetic field. When they hit the planet, these magnetic fluctuations may make whales lose their way with serious, even fatal, consequences.
When an animal this large shows up dead on shore, it is an event. As far back as the 16th century, when sperm whales beached near important cities in the Netherlands, artists documented the demise with etchings and engravings. In the 18th century, one stranding was commemorated with a set of blue Delft plates. These images, often printed in pamphlets and distributed across Europe, show crowds gathered around the massive corpses but also depict the whales in fine detail. For many years, much of what Europeans knew about sperm whales was learned from these events.
12 September 2017
 - The role of the Shaman in the original peoples is to resolve issues of the tribe that other members were unable to rectify themselves. They heal, they influence, they transform, otherwise known as the art of magic.
​Traditional and contemporary shamans do this by consciously venturing into the non-physical realm – a practice called 'journeying' – to dance with the spirits of their ancestors and their land to find answers to their current affairs, and assist the energetic rivers to flow in more desired directions.
However, as the Western world became so-called 'civilised' over the course of several millennia, they tore the role of shamans and other energetic workers out of their societal infrastructure. Tribal peoples were labelled as primitive and undeveloped. Magicians hid in the shadows. Witches were burned. Organised religion stepped up to dictate their version of the divine to the masses, eventually leading to the secularisation of large portions of society, including their managerial structures.