21 February 2018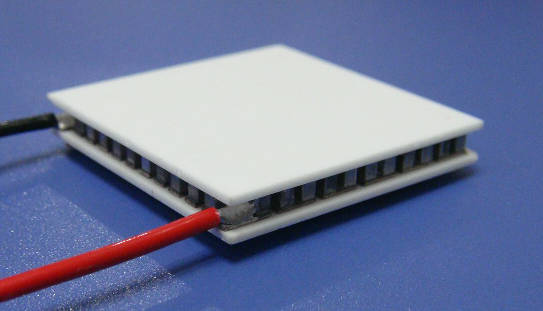 - Thermoelectric devices, which can generate power when one side of the device is a different temperature from the other, have been the subject of much research in recent years. Now, a team at MIT has come up with a novel way to convert temperature fluctuations into electrical power. Instead of requiring two different temperature inputs at the same time, the new system takes advantage of the swings in ambient temperature that occur during the day-night cycle.
In 2012 a new thermoelectric device was found to convert body heat into an electrical current, which soon could create enough juice to make another call on your cell phone simply by touching it.

The new system, called a thermal resonator, could enable continuous, years-long operation of remote sensing systems, for example, without requiring other power sources or batteries, the researchers say.
4 November 2017
 - Imagine being able to turn your food waste into clean cooking gas and nutrient-rich fertilizer, while at the same time reducing potent greenhouse gases. This was the exact vision of Israeli-based HomeBiogas, which resulted in the creation of an affordable consumer appliance that efficiently produces sustainable fuel out of kitchen scraps. In addition, the device creates a high-quality organic liquid fertilizer that can be used to nourish the plants in your garden.
Most people don't realize that food waste is a significant problem. According to estimates, about 365 million pounds of food per day is wasted in the U.S. In other words, about 30 percent of food produced in the U.S. ends up in the landfill.
Not only is this a waste of resources, but food waste that decomposes in landfills emits methane gases into the atmosphere. Experts believe that these gases are a major contributor to climate change. If you were to image that food waste is a country, it would be the third biggest emitter of greenhouse gases, after the U.S. and China.
10 September 2017
 - The world is steeped in poverty with precious little achieved in the way of real humanitarian advancement. While there are a number of technologies that could have changed the world and helped humanity create a living utopia, the brilliant inventors of these technologies were given a hard time by the 'big boys' of the establishment when they attempted to bring their game-changing innovations to the world at large. Some were even murdered for their efforts — all for profit and control.
So, without further ado, let's take a look at 7 suppressed technological developments that could have changed the world, as well as the circumstances that befell them and their inventors.