12 January 2018
 - Orangutans may have knowledge of medicines unknown to humans, a study has found.
The great apes have been filmed chewing plants into a lather - which they then use as an 'ointment' on their aching limbs. The plant is also used by the orangutan's indigenous human neighbours in the forest.
Now scientists are investigating the possibility the apes may know of further medicinal plants that could be used by mankind.
Researchers from the Borneo Nature Foundation have filmed the apes since 2003 – collecting over 20,000 hours of recordings. The apes were spotted using their own herbal medicine in the Sabangau Forest, in Central Kalimantan, Indonesian Borneo.
10 January 2018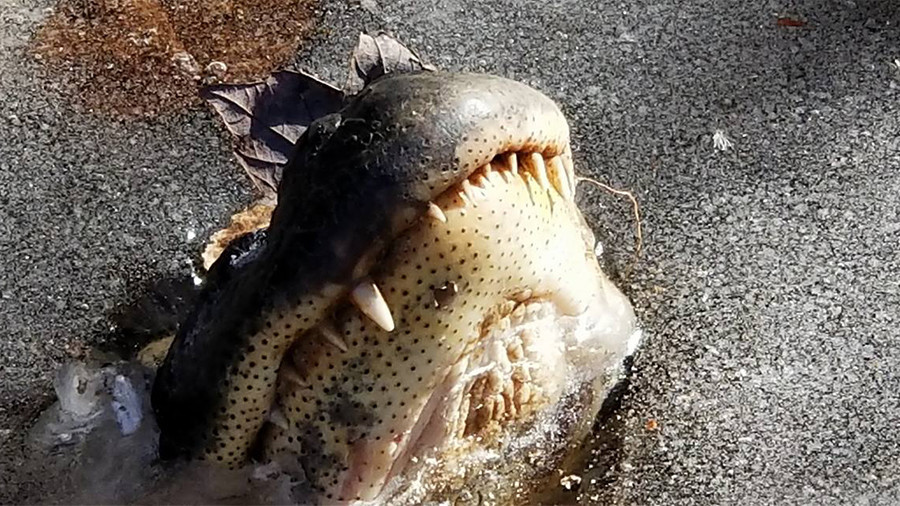 -The 'bomb cyclone' that froze the eastern seaboard of the US last week forced many to take extreme measures to stay warm and stay alive, including a group of rather inventive alligators in North Carolina.
Footage captured by the staff of the Shallotte River Swamp Park in Ocean Isle Beach, North Carolina shows the somewhat surreal survival technique employed by the cold-blooded reptiles which allows them to be frozen in place in the park's pond. Even the 'bomb cyclone,' which wrought havoc across the eastern seaboard of the US, couldn't catch these crafty creatures off guard. 
The gators instinctively know when the water around them is about to freeze and raise their snouts at just the right time, allowing them to enter a state of brumation, a kind of hibernation that also involves slowing down an animal's metabolism.
Videos showing the alligators "just hanging out in the water," have garnered tens of thousands of views since they were published over the weekend.
21 December 2017
 - The 2017 Comedy Wildlife Photography Awards winners have been announced, and this year's crop doesn't disappoint in the humor department with hilarious expressions, amusing antics and even a little fun with perspective.

It wouldn't be the Comedy Wildlife Photography Awards without a little laughter! This adorable, pint-sized mouse is basking in the flow of flowers in this year's "On the Land" winner, captured by photographer Andrea Zampatti.

While you may laugh out loud (or at least crack a grin), keep in mind the contest has a serious goal: highlighting wildlife conservation efforts.