17 June 2017
- A group of twelve girls with no prior engineering experience developed a solar-powered tent for the homeless that rolls up into a backpack. Along the way, they learned the ins-and-outs of sewing, coding and 3D printing.
Due to a flailing economy, homelessness is on the rise in cities such as Los Angeles. Fortunately, a new innovation developed by students at San Fernando High School may help those who are stranded on the streets — at least until a more permanent solution is presented.
Together, the 12 females were recruited by DIY Girls, a non-profit organization that empowers young women from low-income families in LA to pursue fields in technology and engineering.
Wednesday, 30 September 2015
 - To eliminate food-packaging waste before it even gets into the shopping cart is the success behind Original Unvertpackt, a new supermarket in Germany that takes things into zero-waste territory by encouraging consumers to tote reusable containers to the store.
Nothing that comes in a disposable box, bag, jar, or other container is sold at this store.
And instead of shelf after shelf of boxed items, this supermarket utilizes bulk bins, attractively displayed produce that's not shrink wrapped or stored in tetra packs, and beverage stations for refillable water bottles.
25 August 2014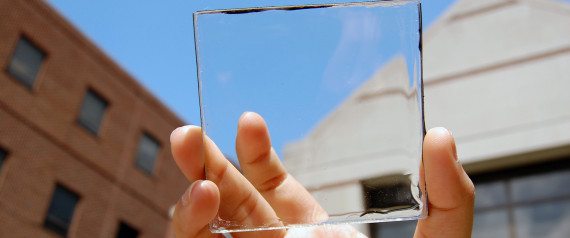 - Scientists at Michigan State University announced this week the creation of a "transparent luminescent solar concentrator" that could turn windows and even cellphone screens into solar-power generators.

This technology could mean that one day entire skyscrapers might be able to generate solar power without blocking out light or ruining tenants' views.

The material works by absorbing light in the invisible spectrum (ultraviolet and near infrared) and then re-emitting it in the infrared. The infrared light is then channeled to the edge of the clear surface, where thin strips of photovoltaic cells generate the power.