7 July 2017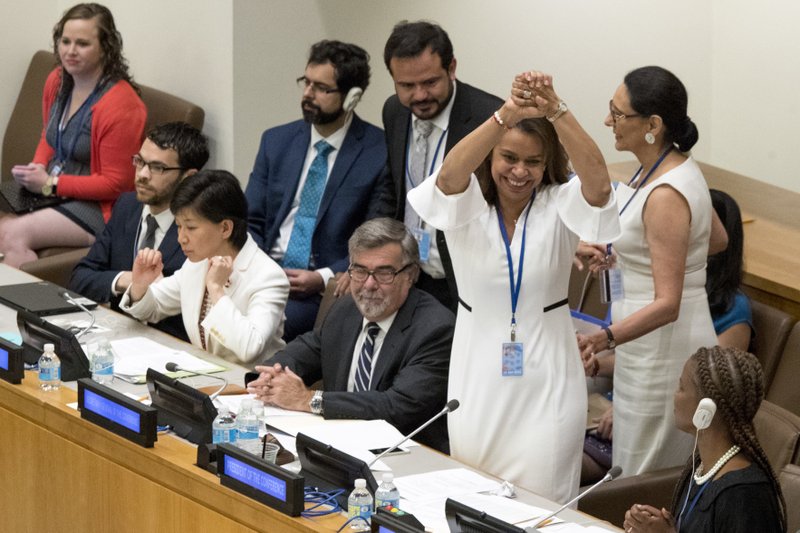 - More than 120 countries are expected to adopt the first-ever treaty to ban nuclear weapons Friday despite a boycott by all nuclear-armed nations, including the United States, which has pointed to North Korea's escalating nuclear and ballistic missile programs.
Elayne Whyte Gomez, president of the U.N. conference that has been negotiating the legally binding treaty, told reporters Thursday that "we are on the verge of adopting the treaty on the prohibition of nuclear weapons."

"This will be a historic moment and it will be the first multilateral nuclear disarmament treaty to be concluded in more than 20 years," she said. "The world has been waiting for this legal norm for 70 years," since the use of the first atomic bombs on Hiroshima and Nagasaki in August 1945 at the end of World War II.
25 June 2017
 - Every time a terrorist attack occurs in Europe, it is met with an abundance of media coverage, and each victim is mourned by the public on a grand scale. However, the concern for the loss of innocent life appears to be almost nonexistent when the United States kills more civilians in one month than terrorist attacks in Europe have killed in the last 12 years.
A group monitoring the Syrian conflict reported on Friday that airstrikes launched by the United States-led coalition in Syria have killed 472 civilians from May 23 to June 23.
In the last 30 days, the Syrian Observatory for Human Rights reported that the provinces with the largest death tolls were Deir Ezzor with 222 civilian deaths, including 84 children, and Raqqa with 250 civilian deaths, including 53 children. The Observatory also noted that the latest figure is more than double the previous month, which was around 225 civilian deaths.
23 April 2017
 - As  one more US aircraft  carrier  steams  off to  confront the North Koreans and threaten nuclear war once again , it is timely to  recall  that  60  years ago  the United States and its allies (including a very  compliant New Zealand) began  a genocidal  bombing of every  town  and city in  the north of Korea. Millions of Koreans died.
Since that war ended, the largest and nuclear superpower in the world has refused to sign a peace treaty with North Korea, has stationed thousands of troops and weapons along its South Korean border and has regularly threatened to nuke North Korea, applied annual large scale attack manoeuvres along the border with North Korea, as well as implementing sanctions that in several years since the war, caused mass starvation in the north. Small wonder that the North Korean regime might be considered paranoid and unstable!
15 April 2017
 - It has become embarrassing to be an American. Our country has had four war criminal presidents in succession. Clinton twice launched military attacks on Serbia, ordering NATO to bomb the former Yugoslavia twice, both in 1995 and in 1999, so that gives Bill two war crimes. George W. Bush invaded Afghanistan and Iraq and attacked provinces of Pakistan and Yemen from the air. That comes to four war crimes for Bush. Obama used NATO to destroy Libya and sent mercenaries to destroy Syria, thereby commiting two war crimes. Trump attacked Syria with US forces, thereby becoming a war criminal early in his regime.
To the extent that the UN participated in these war crimes along with Washington's European, Canadian and Australian vassals, all are guilty of war crimes. Perhaps the UN itself should be arraigned before the War Crimes Tribunal along with the EU, US, Australia and Canada.
Quite a record. Western Civilization, if civilization it is, is the greatest committer of war crimes in human history.
8 April 2017
 - "Managed chaos". Brilliant. That's Washington's foreign policy in a nutshell.
That's why there's been no effort to create strong, stable, secular governments that can provide security for their people in any of the countries the US has destroyed in the last 16 years, because this long string of failed states that now stretches from North Africa, through the Middle East and into Central Asia (The 'arc of instability') create a permanent justification for US military intervention as well as strategic access to vital resources.
So why waste money and time on nation building when nation building runs counter to Washington's strategic objectives? Instead, decimate the nation state wherever you go, and leave the people to scratch out a miserable hardscrabble existence for themselves while fending off the relentless violence and persecution of tribal elders or local warlords.
7 April 2017
 - So, it comes down to us. We the people are the last resort, the last line of defense, the last chance for peace. Without immediate action by us, escalating events may soon result in the unthinkable.
But perhaps if enough of us get on the phone and are persistent and loud enough, our Senators and Congressional reps will do their job, which is to represent us. Congress must immediately pass legislation rescinding the broad war powers bestowed on the president after 9/11. Here is the Washington Capitol switchboard number (202-224-3121). Please call Friday morning — EARLY!  We must catch our reps before the weekend.
30 March 2017
- The US cannot be the world's "moral conscience" by any stretch of the imagination, as both its actions and inaction in Yemen, Iraq and Syria show a lack of basic compassion, according to Russian Foreign Ministry spokeswoman Maria Zakharova.
American envoy to the UN Nikki Haley said on Wednesday that the US is the "moral conscience" of the world, and that it would not give up this role, at the same time calling the United Nations Human Rights Council (UNHRC) "corrupt" – without providing any evidence for her accusations.
American actions worldwide, however, mainly constitute a significant lack of conscience, Russian Foreign Ministry spokeswoman Zakharova said at a press briefing on Thursday.
15 February 2017
 - U.S. President Donald Trump made unequivocally clear, on February 14th, that the new Cold War between the U.S. and Russia will continue until Russia complies with two conditions that would not only be humiliating to Russia (and to the vast majority of its citizens), but that would also be profoundly immoral.

One of these two conditions would actually be impossible, even if it weren't, in addition, immoral. For Vladimir Putin to agree to either of these two conditions, would not only be a violation of his often-expressed basic viewpoint, but it would also cause the vast majority of Russians to despise him — because they respect him for his consistent advocacy of that very viewpoint. He has never wavered from it. The support of Russians for that viewpoint is virtually universal. (This article will explain the viewpoint.)
21 October 2016
6 October, 2016
 - Presently, the Syrian Arab Army and allies are advancing inexorably towards the liberation of Aleppo from the hordes of US coalition-funded terrorist brigades, headed up by Al Nusra Front aka Al Qaeda, and Washington's foreign policy is in turmoil.  Despite its best efforts, the US coalition 'intervention' in Syria has been an unmitigated disaster, having hit the brick wall of President Bashar Al Assad's popularity and the fortitude of the Syrian people in withstanding everything the US coalition has flung at it, militarily and on the multi-million dollar propaganda front. Now an increasingly frustrated US coalition has pulled what they believe to be the Ace in their pack of public-perception-altering cards.

Once again, the activist website Avaaz has been deployed, the flagship of the fleet of media and propaganda vessels all pouring forth the narrative that supports the US coalition demands  for a "we-fly-you-dont-zone".  This week, Avaaz launched their No Fly Zone petition.  The infamous No Fly Zone petition that heralded the destruction of Libya in 2011, has now been tailored and dressed up, to be used against Syria. The language is clear: this petition calls for war.

Emotively labeled the "Protect Aleppo's Children Now!" campaign, Avaaz has pulled out all the stops...