16 December 2016
- Around the world, plant breeders are resisting what they see as corporate control of the food supply by making seeds available for other breeders to use.
Frank Morton has been breeding lettuce since the 1980s. His company offers 114 varieties, among them Outredgeous, which last year became the first plant that NASA astronauts grew and ate in space. For nearly 20 years, Morton's work was limited only by his imagination and by how many different kinds of lettuce he could get his hands on. But in the early 2000s, he started noticing more and more lettuces were patented, meaning he would not be able to use them for breeding. The patents weren't just for different types of lettuce, but specific traits such as resistance to a disease, a particular shade of red or green, or curliness of the leaf. Such patents have increased in the years since, and are encroaching on a growing range of crops, from corn to carrots — a trend that has plant breeders, environmentalists and food security experts concerned about the future of the food production.

A determined fellow dedicated to the millennia-old tradition of plant breeding, Morton still breeds lettuce — it just takes longer, because more restrictions make it harder for him to do his work.
18 April 2014
 - A group of scientists and food activists is launching a campaign Thursday to change the rules that govern seeds. They're releasing 29 new varieties of crops under a new "open source pledge" that's intended to safeguard the ability of farmers, gardeners and plant breeders to share those seeds freely.
It's inspired by the example of open source software, which is freely available for anyone to use but cannot legally be converted into anyone's proprietary product.
12 March 2014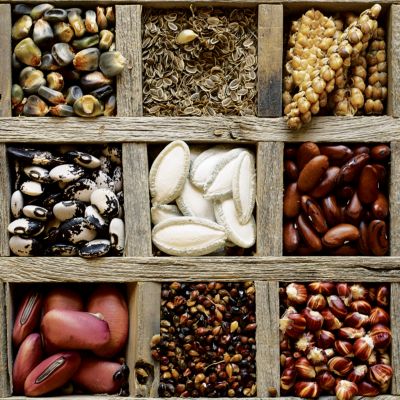 - While having a nice stash of freeze-dried, dehydrated and canned foods is great fall-back, nothing can replace fresh crisp garden vegetables and fragrant, sweet fruit. Increasingly, it is incumbent on individuals to maintain their own supply of life-sustaining seeds.

Seed vaults are not a new concept and had its roots 40 years ago over growing concerns for maintaining bio-diversity. A decade ago, it became mainstream when the global seed vault in Svalbard, Norway took center stage. It is just one of some 1,400 seeds banks around the world. Bet this puts a crimp in Monsanto's Day! As of 2010, in that location alone, more than 500,000 unique seeds rest waiting to bail out humanity.

So what is the chance that the ordinary human would ever have access? Zip. Zero. Cero. Nada. Zilch. Sero. Nulla. Náid.

This one vault of hundreds is in place to serve the global elite, not us.