20 July 2017
 - Cecil the lion's six-year-old son, Xanda, has been killed almost exactly on the second anniversary of his own death, which caused international outcry over the cruelty of trophy hunting.

Just like Cecil, Xanda, a young father himself, was lured away from the safety of a national park in Zimbabwe. Also like Cecil, Xanda was wearing a research collar and was an important part of a long-term study on lions. Killing Cecil and Xanda shows a shocking display of disrespect for these imperiled animals and the unnecessary killing of these majestic creatures just for bragging rights and a head-hunting exercise.

The tide is turning against trophy hunting around the world as a result of Cecil's death—and the killing of his son will only add to that momentum. Please sign our pledge to take a stand against this senseless cruelty.
6 June 2017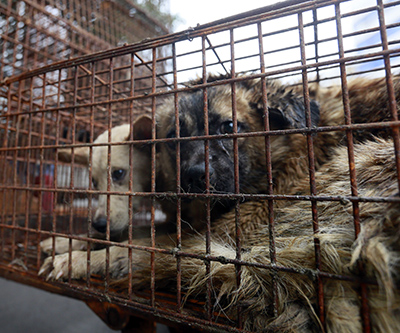 - Sources in China are reporting that the government of Yulin will prohibit restaurants, street vendors, and market traders from selling dog meat at the city's now-infamous festival this year.

The ban is set to come into effect on June 15—one week prior to the start of the event on the summer solstice. It's meant to be strictly enforced, with hefty fines and the risk of arrest for violations. However, the ban is only temporary, and many dogs and cats will still be killed before the ban goes into effect.

You can help make the ban permanent. Please thank Mr. Mo Gong Ming for taking a major step toward stopping the cruelty at Yulin, and ask him to end the slaughter once and for all.
16 May 2017
 - Can you believe that this Saturday, May 20th, the sixth international March Against Monsanto will take place? What will your sign say?
Over the years, a consumer revolution has gained momentum and education via grassroots efforts has raised tremendous awareness about the increasingly toxic food supply. People all over the world continue to wake up to the dangers of Monsanto's genetically modified seeds and health-destroying products like Roundup.
Thank you for doing your part to educate your community! No act is too small in creating change--even one person handing our flyers at the local supermarket helps build the movement.