11 November, 2016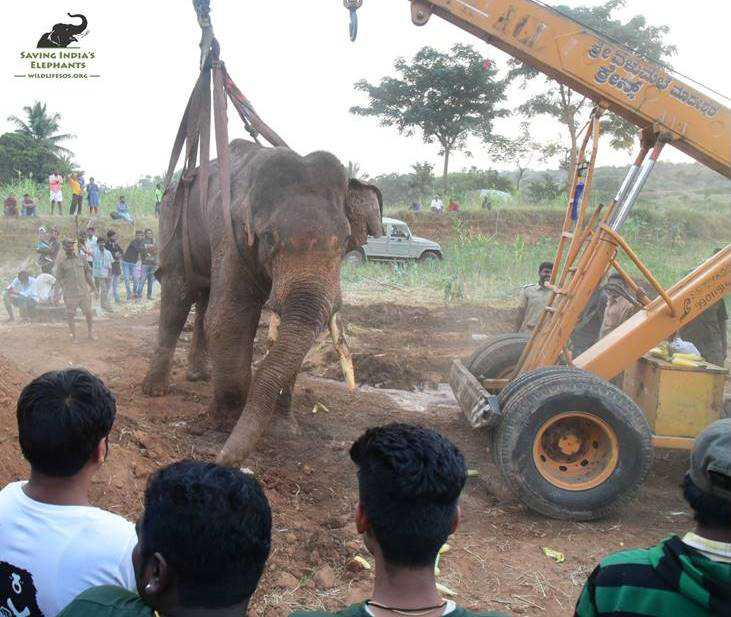 - There will always be good in this world. Take the story of Sidda, the elephant in the photos below, for example. It's times like this, when an entire community, rescuers, and even the army has rallied behind one injured elephant, that show us that there is no shortage of good in this world.
Sidda was one of the elephants included as a focus in our 30 October special distant treatment for Mohan, Raju and 13 other animals being cared for by Wildlife SOS. At the end of the treatment it came out that the one needing the most urgent assistance was Sidda, and we asked EH members to continue praying for him and sending him love and healing energy. In the last few days, something akin to a miracle has occurred for Sidda, with the Indian Army offering to assist Wildlife SOS in his rescue...
30 October 2016
 - Author and legendary conservationist Lawrence Anthony died on 2 March 2012. A few days later, his family spoke of a solemn procession of elephants that arrived after his death, and defies human explanation.
For 12 hours, two herds of wild South African elephants slowly made their way through the Zululand bush until they reached the house of late author Lawrence Anthony, the conservationist who saved their lives.The formerly violent, rogue elephants, destined to be shot a few years ago as pests, were rescued and rehabilitated by Anthony, who had grown up in the bush and was known as the "Elephant Whisperer."
For two days the herds loitered at Anthony's rural compound on the vast Thula Thula game reserve in the South African KwaZulu – to say good-bye to the man they loved. But how did they know he had died? Known for his unique ability to calm traumatized elephants, Anthony had become a legend. He is the author of three books, Babylon Ark, detailing his efforts to rescue the animals at Baghdad Zoo during the Iraqi war, the forthcoming The Last Rhinos, and his bestselling The Elephant Whisperer.
There are two elephant herds at Thula Thula. According to his son Dylan, both arrived at the Anthony family compound shortly after Anthony's death."They had not visited the house for a year and a half and it must have taken them about 12 hours to make the journey..."
17 October 2016
 - Unless you are the "parent" of a sweet fur baby, you can't possibly know the bond that exists; for so many, the family pet is cared for and loved like any other child- some people even dress up their babies and have birthday parties complete with birthday cakes! (Hmmm, that might be too far.)
So it will come as no surprise to some that a new poll has proved the connection between pets and owners is as strong as it seems. It seems that humans are just as traumatized by the death of a pet, as they are after the death of a human family member.
For the study, more than 2,000 adults were asked about their relationships with animals, and 63 percent of them admitted they were emotionally attached to their furry companions.
11 October 2016
 - Like many college campuses across the country, the University of Nebraska-Lincoln had a feral cat problem.
In 2008, a band of faculty and staff created the volunteer group, Husker Cats – named for UNL's mascot, the Cornhusker. The project has managed to reduce the on campus feral population from over 100 cats down to less than 70 through humane Trap/Neuter/Release and foster/adoption programs.
Instead of rounding up the cats and attempting to make them someone else's problem, UNL embraced the population by creating feeding stations and cat houses for shelter across campus.
The administration recognized that the cats offered more than just an opportunity to do some good; they offered a wonderful chance for students to learn about compassion and civic responsibility.
23 September 2016
- We're thrilled to inform you all that Mohan, chained and abused for the past 50 years of his life, has finally been rescued by Wildlife SOS and has arrived at his forever home, the Elephant Conservation and Care Center in Mathura.
In perhaps the longest ever rescue operation lasting over 20 hours at the Pratapgarh district, members of the forest department, an NGO Widllife SOS and the Uttar Pradesh police managed to free the elephant from his mahout - ironically named "Ghulam" or slave.

It took 50 police officers to control the crowd - among them those who tried their best to stop the rescue - and help forest officials to finally free the elephant. The police have also arrested the mahout. He faces up to seven years in jail.
15 September 2016
 - There's something powerful happening down under. First New Zealand banned cosmetic animal testing in 2015, and now Australia is passing a similar ban which will go into effect July 2017. The nation will join the ranks of the European Union, Israel, Norway, and Turkey, all of whom have passed similar measures to cut down on animal testing.

Thanks to the insistence of community groups such as #BeCrueltyFree campaign, cosmetics which have been tested on animals or any products containing anything that has been tested on animals will be banned next year.
3 July 2016
Rest in peace, sweet angel. You'll live forever in our hearts.
1 July 2016
 - "This situation of captivity is degrading for the animals, it's not the way to take care of them," asserted Buenos Aires Mayor Horacio Rodríguez Larreta during a ceremony announcing the closure of the city's 140-year-old zoo.

Rodríguez explained nature reserves throughout Argentina would make far more suitable habitats for the zoo's nearly 2,500 animals, the Guardian reported, and the 44-acre zoo, itself, will also undergo a transformation to an ecopark — a "place where children can learn to take care of and relate with the different species."

"What we have to value is the animals," Rodríguez continued. "The way they live here is definitely not the way to do that."
16 May 2016
 - Your dog has many ways of communicating with you, and you're probably familiar with a number of them. A friendly tail wag to say hello, for instance, or a persistent pawing on your leg when it's time for a treat.
Dogs may also use calming signals, which describe a method of communication used to promote peace and stave off aggression within the pack. Dogs, remember, are pack animals, like wolves, and they display calming signals to let others know that they're friendly and to help diffuse stressful situations.
Calming signals in dogs can be quite subtle, however, so many owners may miss them altogether. Others may mistakenly punish their dogs for giving a calming signal in a case of miscommunication. Understanding this important method of canine communication is crucial to having a close connection with your dog.
10 March 2016
- This story shows the touching relationship between a penguin and the Brazilian man who rescued him from certain death.

'I love the penguin like it's my own child and I believe the penguin loves me'. Now the bird swims 5,000 miles every year to visit Brazilian man who nursed it back to life after he found it covered in oil and dying on a beach.

Retired bricklayer and part time fisherman Joao Pereira de Souza, 71, from an island village just outside Rio de Janeiro in Brazil, discovered the tiny penguin languishing on rocks in 2011.

The helpless creature was starving and covered in oil but Mr de Souza took him in and nursed him back to health, naming the South American Magellanic penguin Dindim.