6 September 2016
 - What would you do if your income was taken care of?

We'll have to do something drastically different to employ people in the future. Our jobs are disappearing. The driverless vehicle is here, destined to eliminate millions of transport and taxi-driving positions. Car manufacturing is being done by 3-D printing. An entire building was erected in Dubai with a 3-D printer. Restaurants are being designed with no waitstaff or busboys, hotels with no desk clerks, bellhops, and porters. Robot teachers are interacting with students in Japan and the UK.

There are plenty of naysayers and skeptics, of course. The Atlantic proclaimed, "The job market defied doomsayers in those earlier times, and according to the most frequently reported jobs numbers, it has so far done the same in our own time." But this is a different time, with no guarantees of job revolutions, and in fact a time of unprecedented machine intelligence that threatens the livelihoods even of doctors, teachers, accountants, architects, the clergy, consultants, and lawyers.
23 February 2016
 - A tiny California desert town is making a drastic change to reverse its downward spiral and embrace an enlightened future. For 24 years, Adelanto tried unsuccessfully to sustain its economy through prisons, but now it will be hosting a very different kind of business—cannabis cultivation.
The town became only the second city in California to permit commercial cultivation of medical cannabis, after a year of heated debate in the City Council. The persistence of John "Bug" Woodard, Jr. paid off in a 4-1 vote on Nov. 23 to allow cultivation.
"I had nothing to lose," said Woodard. "The city could not get in any worse shape than it was. It was broke."
31 July 2015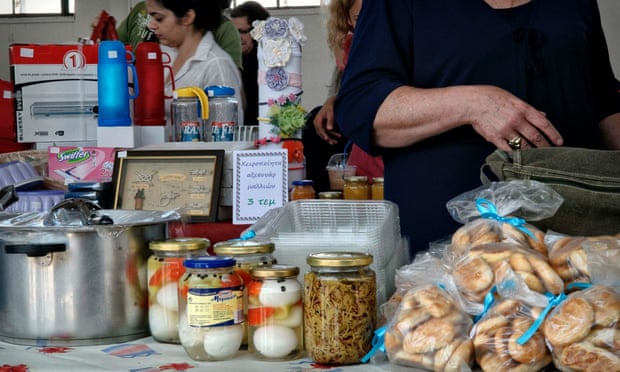 - As money has become tighter in Greece, an alternative "solidarity economy" has sprung up providing everything from food and medical care to hairdressing and language classes to thousands – without a euro changing hands.
The Athens Time Bank, for example, allows members to collect credits by offering an hour of their time to someone who needs their services. The bank boasts doctors, dentists, electricians, yoga teachers and plumbers among its ranks, but the most popular service on offer is psychotherapy – highlighting how years of austerity have eaten away at more than just savings and living standards.
"These are the seeds, we are still in the beginning," said member Christine Papadopoulou, who is also one of the coordinators of an annual "festival of solidarity" that brings together thousands of people for discussions, concerts and workshops each autumn.        
The network is made up of a diverse patchwork of groups.